[LiMA REKOMENDUOJA] DIGITAL MARKETING EUROPE 2021
2021-04-26 09:00
Registracijos terminas: 2021-04-26
MARKETING EUROPE 2021 Conference + Expo
April 26-29, 2021 | Online Free Attendance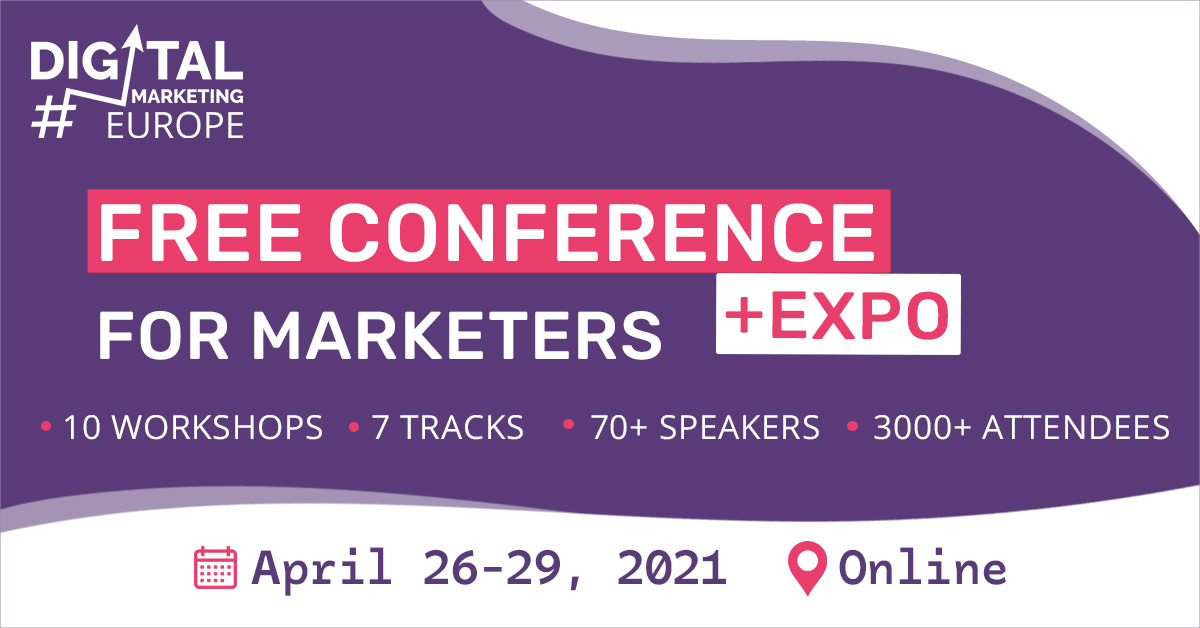 Introducing Digital Marketing Europe 2021 Conference + EXPO, a digital 4-day experience including thousands of fellow marketers and influencers, keynotes and sessions, full-day hands-on workshops, networking opportunities, exhibitions, and much more! It is an opportunity for global experts at any level to participate, network, and advance in their careers!
Conference days - April 28 and 29.
What to Expect?
Discussion Spaces on Trending Topics. Widen your perspective about the hottest Digital Marketing concerns from different experts! Listen up to a panel discussion where panelists share opinions and expertise on trending, no-commonly-agreed Digital Marketing world topics.


Diverse and Insightful EXPO Area. Join the virtual booths in exposition to get to know what digital marketing has been up to! At EXPO you will be able to watch, listen, get useful materials from top industry performers, and to communicate with them on the spot! Pay attention, booth representatives have the agenda prepared for you as well


Top-Notch Content. Our speakers prepared actionable content of the newest digital marketing insights, upcoming trends, and capabilities marketers need today. What is best, at the end of every presentation you will be able to ask presentation-related questions in QnA sessions. For more specific concerns and questions about your case find speakers after their presentations in Ask Me Anything Corners or simply drop a private message on the platform.


Networking Spaces. The platform features are also designed for connecting with any attendee, speaker, or sponsor! List your network needs in advance – once the conference starts you will have countless opportunities to meet like-minded professionals and create valuable connections that will last beyond the event.
Speakers
Oover 70 speakers from all over the globe. You could interact with speakers and ask questions throughout the conference. Make sure to view our confirmed speakers' list and read more about their sessions. Also, more speakers are yet to be announced!
More information about the program and speakers: www.digitalmarketingcon.eu
Sritis:

Digital marketing, business, communication, marketing

Forma:

Conference

Vieta:

Online

Kaina:

Conference price: 0 - 660 Eur

Data:

2021.04.26-29

Organizatorius:

Lietuvos marketingo asociacija (LiMA) neatsako už renginio organizavimo ir turinio kokybę.

Registracijos terminas: 2021-04-26