15 Mind-Blowing Stats About Innovation
Data: 2020 m. sausio 20 d.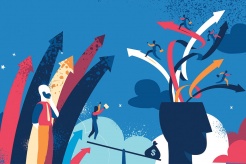 Destination: innovation. Just like any address you plug into your favorite mapping app, many routes can take you there. And you'll likely find yourself merging on and off multiple roads for the smoothest trip possible.
In other words, the road to innovation is rarely one straight path. And yes, lightbulb moments happen, be it during a creative brainstorming session, from data analysis unveiling a clear opportunity, or even when we're not trying to be creative—say, in the shower or during a run. 
However it strikes, innovation requires the right strategy, investment, leadership, and stomach for risk. Here's how organizations are faring on all of those fronts.
1. Eighty-one percent of respondents at digitally mature companies cite innovation as a strength of their organizations, compared with 36% from developing outfits and only 10% from early-stage companies. (Source: MIT Sloan Management Review and Deloitte)
2. Top drivers for innovation today include enhancing customer experience (53%), driving revenue growth (53%), and developing new products and services (45%). (Source: Gartner)
3. More than one-quarter of C-level executives surveyed, said they have a designated innovation leader, such as a chief innovation officer, in place at their organization. 42% say they will create such a role to foster innovation. (Source: EY)
4. Sixty-five percent of high-growth companies plan to collaborate with customers during the innovation process, compared to 54% of other companies. (Source: Accenture)
Read more here