Forrester's 5 CX Predictions For 2020
Data: 2019 m. gruodžio 09 d.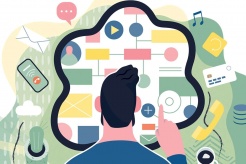 Is anyone going to argue against the strategic value that great customer experience (CX) gives businesses in 2020? Unlikely.
However, being convinced that CX is integral to business success and achieving meaningful results are two different things. According to Forrester's "

Predictions 2020: Customer Experience

" report, the year ahead will be marked by that stark distinction between CX-first organizations with professionals who are delivering top- and bottom-line benefits—and those who are not.
According to Forrester, CX leaders who can prove the ROI of what they're doing will reap the benefits, but those unable to tie experiences to dollars and cents may find themselves out of work. In the context of continued economic uncertainty, "the race to monetize CX will lead to triumph for some firms and disaster for others," the authors warned.
2020: The Economics Of CX Management
CX management is "a concept that a lot of people who feel passionately about improving customer experience seem to miss. For them it's really obvious that you should be treating your customers well, [and so it] seems like it goes without saying," said Harley Manning, VP and research director serving CX professionals at Forrester.
But it doesn't go without saying, Manning told CMO by Adobe, "because of CEOs who have to talk to Wall Street, and CFOs who have to decide where to spend their limited funds, and CMOs who are trying to figure out whether they should fund this CX improvement thing that may sound new and unfamiliar versus a marketing campaign that they know has returned a certain result in the past."
CX matters because it's how brands will win market share and retain customers in a rapidly evolving marketplace. "Customer experience equals money," he said. "That's why people should actually care about it."
That fact is the backdrop for Forrester's five CX predictions for the year ahead.
Read more here.