Top 10 Marketing Influencers from Lithuania to Put on Your Radar
Data: 2019 m. rugpjūčio 27 d.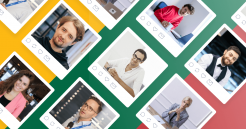 The country we are landing on today is Lithuania, the geographical midpoint of Europe. With the digital marketing and IT sector blooming here, there's an ever-growing need to connect with the most talented and influential people. Let's take a look at what this place has to offer!
1. Karolis Rimkus
Karolis has 8 years of experience in marketing with a handful of awards to prove it. Karolis is the CEO of his social media agency Caption and is working relentlessly to help businesses reach their goals on social media. He has already had the pleasure of working with over 80 different clients including Toyota, MARS, Jack Daniel's, Bacardi, and others. If you are looking for a man who knows his Instagram from his Facebook, Karolis is the one!
2. Tomas Ramanauskas 
With a large community around him, Tomas is one of the most inspiring digital marketing personas in Lithuania. Tomas is a partner at NEW! Creative Agency and SUPERYOU. He is also a lecturer at The Atomic Garden and a co-author of an amazing book about creativity. Tomas is very active on LinkedIn and has also started one of the most engaging monthly newsletters where he shares marketing trends, insights, inspiring marketing examples, and more. Click to subscribe!
3.  Laura K. Inamedinova 
Laura K. Inamedinova is the founder of international marketing, PR, and communications company LKI Consulting focusing on fintech and crypto industries. Laura helps companies identify marketing goals, best communication strategies, and implement solutions to grow their business. She shares her expertise in fintech marketing by contributing articles to Forbes and The Huffington Post. Not to mention she has helped ICO companies raise more than $200M!
4. Kotryna Kurt 
Kotryna is the co-founder of a freshly established LinkedIn marketing agency Linkedist. Together with her partner Giedrė Pociūtė, she helps businesses create content, generate leads, set up advertising campaigns on LinkedIn, as well as develop their personal branding, workshops, and trainings. Kotryna's world spins around content creation and social media marketing strategies, and her particular focus on LinkedIn has come from noticing the immense growth and power of this platform.
5. Arijus Žakas 
Arijus is a well-known blogger, lecturer, consultant, and marketer in the Lithuanian digital marketing arena. He is also the CEO of Socialus Marketingas, a digital marketing and communication agency from Lithuania. Arijus specializes in local market needs and frequently shares valuable insights about local markets, social media, and content creation.
6. Justas Janauskas
Justas is a digital mastermind, there's no other way to describe him. Not only is he the co-founder of Vinted, a now-international community marketplace for pre-loved fashion (started in Lithuania in 2012 today the company operates in 10 countries!). He is also the brain behind HumansApp, a project that helps people from different backgrounds meet in real life and exchange knowledge.
7. Daugvinas Liberis
Daugvinas is an established Facebook Ads performance expert and an experienced marketing strategist. With more than 7 years of experience under his belt, along with 4+ years in leading marketing teams, he is one of the TOP digital marketing specialists and consultants in Lithuania. Daugvinas constantly follows up on digital trends and tests out the newest marketing tools and strategies for e-commerce, B2B, media, SaaS companies, and marketing agencies!
8. Laura Aleksandravičė 
Laura is the founder and CEO of influencer marketing agency Influenceriai.lt She helps companies form meaningful relationships with local influencers, engage and measure their influencer marketing solutions to rock the social media world! Before launching her own agency, Laura actively created brand ambassador strategies for huge companies such as Adidas and Reebok in Lithuania!
9. Regimantas Urbanas
Energetic, positive, and open-minded digital marketer with 13+ years of experience cutting-edge tech startups and media agencies. Oh, and even Google! Currently, he works as the CMO at Tesonet while also serving as a strategic advisor for Evolvery! Regimantas loves to talk about digital marketing, business strategies, and other modern topics. He is most passionate about the earliest stages of the companies/teams when processes and strategies need to be initiated, structured and launched.
10. Andrius Milinavicius 
Andrius has spent the past 13 years developing his knowledge and skill in the digital marketing and communications arena. After gaining experience in various companies as well freelancer shoes, he is currently working with Baltic Sandbox, a Vilnius-based startup accelerator for SaaS and fintech companies. Andrius is a board member of the Lithuanian Marketing Association and shares his knowledge by speaking at conferences and marketing-related events.
What's more?
These are the top digital marketing influencers in Lithuania who can offer valuable insights on innovative digital marketing trends and strategies. If you're looking to partner with someone, this is a good place to get started.
Read more here.