3 Trends That Are Changing Creativity As We Know It
Data: 2019 m. birželio 25 d.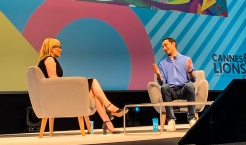 Creativity is becoming more collaborative, the nature of brands is morphing, and artificial intelligence is becoming an important member of every design team. Those were the three main trends identified by Debbie Millman, host and founder of the "Design Matters" podcast, and Scott Belsky, Adobe's chief product officer, during a packed session at the opening day of the Cannes Lions International Festival of Creativity in France.
Collaborative Creativity

Millman and Belsky discussed the notion of collaborative creativity as younger generations enter the workforce. This cohort brings with them their expectations for hyperconnectivity and working alongside colleagues, peers, and friends.
"Branding is really a team sport," Millman said. "There are so many hands that go into the game of branding."
However, the generations don't quite see eye to eye in terms of how much collaboration they prefer, Belsky said.
"When we go to our customers and say, 'Would you ever want Photoshop to be a collaborative tool? Would you ever want someone else to be in the same document as you, working alongside you?' it's fascinating to see the split of responses," he told the audience. "Some people say that would be an absolute nightmare. Then you go to a new generation of people who grew up with Google Docs and chat and Slack and Facebook and everything else, and they just assume that a creative tool should be collaborative."
Read more about it here.