EU funded project: Cross-border Digital Opportunity traineeships
Data: 2019 m. birželio 24 d.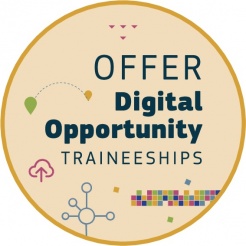 Dalinamės informacija apie tarptautinį projektą.
European Commission launched a project Digital Opportunity Traineeships that offers students of all disciplines on-the-job digital skills training in participating companies. The initiative provides cross-border traineeships for up to 6,000 students and recent graduates over the period 2018-2020.
By joining the initiative and publishing a traineeship in one of the relevant fields, participating companies and organisations get immediate access to a large pool of candidates with strong skills and solid motivation coming from various countries (via the ErasmusIntern website).
The process of getting a skilled trainee is easy and straightforward for the company and there is no or little cost to the company as the trainee will receive a monthly allowance of around €500. The companies are of course welcome to top it up.
Feedback and testimonials
Hundreds of students and companies have already enrolled in the Digital Opportunity Traineeship programme. For example, Lorenzo from an Italian start-up Vinhood emphasises how easy it was to find people with the right profile:

"In order to offer better service to our clients we needed to have a data scientist in our team. It was hard to find the right person in Milan. Thanks to the Digital Opportunity Traineeship programme we enlarged the research at EU level and shortlisted several suitable candidates and finally selected a really good one."

Lorenzo's company is now looking for a second young professional to join their team through the initiative again.

Tiago from VisionSpace Technologies, appreciated the financial support provided by the EU. His company was able to bring the trainee to Germany and educate him for their needs.


"As an SME which produces software used for space technologies we really needed highly-skilled people, but these are difficult to find on the job market. The easiest way is to educate them in-house. We use this programme (DOT) to bring people from universities who have been taught the right methodologies and blend it with the expertise we need. This creates opportunities for both sides."

Want to host a trainee in your company? Sign up to the ErasmusIntern platform and publish your Digital Opportunity Traineeship. Find more information and answers to frequent questions on this page.