Heads up, advertisers: Facebook is shrinking mobile News Feed ad space
Data: 2019 m. liepos 22 d.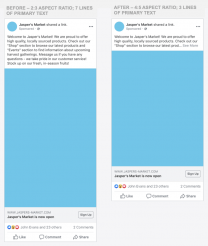 Facebook is making changes to the aspect ratio for posts and ads in its mobile News Feed. Beginning August 19, posts and ads in the mobile News Feed will display at a 4:5 aspect ratio, which means they'll be shorter than at the original 2:3 aspect ratio.
For advertisers, this means ads will show fewer lines of text and the maximum height for photos or videos in the ad will be reduced to fit new design: "The tallest supported aspect ration for images without links and for videos is now vertical (4:5). Media taller than 4:5 will be masked on Facebook's mobile News Feed."
Why we should care
According to Facebook, the new ad layout will only allow for three lines of text, after which users will see a prompt to display more of the text. That's a change from displaying as many as seven lines of text before the "See More" prompt. Ad copy will need to be tighter than ever to get your messages across — or entice users to click to "See More."
Videos will also need to be optimized for the new size, otherwise they will be automatically "masked" when the changes take effect next month.
Susan Wenograd, VP of marketing strategy at Aimclear, was the first to note the coming changes on Twitter. She says, while its part of Facebook's efforts to do some "housekeeping" by creating a more consistent mobile experience, the move points to the larger needs of social media marketing: that less has to be more.
"Less text, so it's skimmable. Imagery that gets to the focal point quicker. These two things force marketers to synthesize their message into something instantly understandable," said Wenograd, "It makes sense given the insane amount of content we are now seeing on a day-to-day basis."
Wenograd believes that if an advertiser is going to interrupt a user's primary reason for being on a platform, the message needs to be focused, concise and adaptable. She also noted the timing of Facebook's announcement, coming at a time when brands are currently lamenting their declining direct-ROI from the platform.
"The slimming down of creative real estate furthers the need for marketers to be thinking in terms of the long game on their branding. They have less space to try and sell, so they need shorter messages delivered more frequently to cut through the noise," said Wenograd.
Read more here.