Instagram will bring ads to Explore tab of personalized content
Data: 2019 m. liepos 08 d.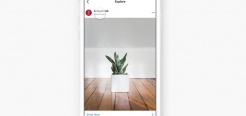 Brief:
Instagram will place ads in its Explore section that shows users personalized content based on their interests, giving mobile marketers a chance to reach highly targeted audiences, according to a company announcement. The Facebook-owned app won't show the ads in the initial Explore screen, and instead will insert them into the results feed that appears when users tap on featured content.
The social platform plans to introduce Explore ads "slowly and thoughtfully" in the coming months, and will give users control over what ads they see based on their actions in the app.
Advertisers can extend their Instagram ad campaigns to the Explore section by opting in to use automatic placements, per the announcement.
Insight:
Instagram's Explore feature is one of the most engaging parts of the image-sharing app because it shows users personalized content based on their interests and platform history. For mobile marketers, such self-selecting audiences present a significant opportunity to reach target consumers on a large scale.
In the U.S., Instagram usage is forecast to grow to 117.2 million people by 2021 — 55% of all social network users — from 106.7 million this year, according to eMarketer research. The researcher estimated before this week's announcement about Explore ads that the app's ad revenue will grow to $15.7 billion by 2021 from $9.1 billion this year.
Instagram's gradual approach to adding ads to the Explore tab indicates that the app doesn't want to negatively affect the user experience amid competition from rival social networks.
"The demo shows how seamlessly the sponsored post fits into the Explore feed, so Instagram is at least easing users into the transition," Dan Goldstein, president of digital marketing agency Page 1 Solutions, said in emailed statements to Mobile Marketer. "The biggest hurdle for any platform trying to introduce ads in a previously non-commercial space is minimizing interruption to the user experience while satisfying advertisers that their content will be seen."
Read more here.