Marketers must boost their data confidence. Here's how they can do it
Data: 2019 m. liepos 08 d.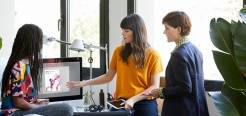 The following is a guest post from Stuart Schneiderman, vice president of business intelligence at Advertiser Perceptions.
It won't be long before first-party data becomes a dividing line in marketing.
While most marketers only activate half of their first-party data, 67% expect to realize their data-related goals within 18 months, according to a study of 200 marketers we conducted in February. These companies are moving fast, and they're already seeing results in targeting, ROI and measurement. They're separating themselves from their competition because they know their customers, communicate with them intimately, anticipate their needs with new products and increase their convenience.
Essentially, these leaders will create hyper-learning organizations by fueling positive feedback engines. Higher quality first-party data leads to more precise targeting, then powers stronger results and more accurate measurement and then generates more high-quality first-party data. The more the first-party data enables, the more valuable it becomes.
For other marketers, though, the reality isn't living up to the excitement. Today, 60% lack confidence they're getting ROI from first-party data. For some, it's to the point of anxiety, particularly for CPG and other retail marketers battling direct-to-consumer insurgents. Their fear: DTC competitors may master first-party marketing before they can really start doing it, because retailers own their customer relationships and data.
Understandably, many of these marketers face regulatory, privacy and operational constraints on data. Some can't access their CRM and e-commerce data due to technology and information restrictions. Others can't retrieve accurate site analytics, let alone feed customer intelligence, advertising or attribution models. This is the great frustration for marketers in the 21st Century — knowing the data for a fully accountable system lies just beyond reach.
So, what can they do? Do the main things that data leaders do every day.
Read more here.