The Changing Face of Executive Reputation by International Public Relations Association
Data: 2019 m. birželio 10 d.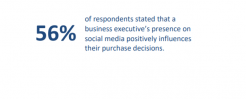 The findings in this Gold Paper include some key indications which together suggest that digital executive reputation is becoming an increasingly important part of a company's accountability. The survey reveals that an executive's social media presence can positively influence purchase decisions, with six out of ten respondents saying that if they followed (or were to follow) a senior business leader on social media, they would be more likely to buy from that company. This finding finally moves the needle on digital executive reputation from a nice-to-have, to a clear financial imperative.
Reputation management is evolving rapidly. Historically, it referred to niche public relations activity, typically deployed in the midst of an urgent crisis or scandal. Today, a company's reputation is increasingly considered an always-on function, embedded deep in a company's culture as well as being part of its public face.
According to Leslie Gaines-Ross, chief reputation strategist of Weber Shandwick, after the global recession, the role of CEO's regarding reputation began to shift from a secondary to a primary function that required greater engagement and presence online. "Although social media has placed nearly every CEO and company in the spotlight for good and bad, it has also given CEOs a once-in-a-lifetime opportunity to tell their company stories in unimaginable and untold ways" (Weber Shandwick).
The research finds that more people now rely on social media versus traditional media for updates on business leader's views. Unsurprisingly, this was particularly true of the younger demographic of 25-34-year olds (70%). Less predictably, perhaps, it proved especially valuable in China where five out of six of the survey's respondents used social media as a first call.

Leveraging online reputation for executives is now part of the process of digital transformation. In a 2017 survey of business executives in the US, 80% of respondents said it was 'likely' or 'very likely' that being influential in your industry could be achieved by having a digital presence.1 If that survey were to be re-run today, that percentage would likely be significantly higher: social presence and executive influence are increasingly inextricably linked. It is likely that this tide cannot be stopped (a view reinforced in Forbes' 2018 report on the world's most influential CMOs.2)

Today, C-suite executives have become ambassadors for their companies, and as such their reputations need to be intentional. This requires both new investment and an enhanced functional integration of existing resources. With executive social channels playing a much more significant role in delivering corporate news and information, leaders should acknowledge the importance of online engagement and actively participate in the process.

Full study here