How to succeed as an interim marketer
Data: 2019 m. kovo 07 d.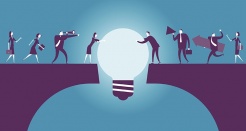 Whether brought in to drive transformation or provide temporary cover, interim marketers only have a finite amount of time to achieve objectives so they must ensure they hit the ground running.
Starting a new job always brings with it a whole new set of challenges: new processes, a new team and new objectives. It can take several weeks, if not months, to feel properly settled.
But when taking on a new role on an interim basis time is a luxury marketers don't have. Whether brought in to drive strategic change or provide temporary cover, the one thing interim roles all have in common is a very definite end date. Any goals have to be met in the time frame required, so hitting the ground running is a prerequisite.
"You've got to expect the unexpected," says Sam Bridger, who has been an interim marketer for more than a decade, working at brands including Whitbread Restaurants and Avios. "No matter what a brief looks like, inevitably you'll get there and find things that will throw you off course, whether it's internal politics, a change of strategy or a team where marketing is trying to do one thing and sales is trying to do something else.
Read more.